I have heard about Arashiyama for years and never made time to visit in any of my previous trips so this was long overdue. I read up on the area for months before my trip planning out my day. How could I skip Monkey Park? Impossible! That was number one on my list of many things to do in Arashiyama. The trip started by taking the subway and then a transfer to the RANDEN which was so much fun to ride.
Of course being an early bird I arrived way before the Monkey park opened so I decided to walk around and explore.Arashiyama is simply beautiful. The area is so clean and well maintained. You can feel the pride of the residents and shop keepers. It was too early to visit anything really so I headed for the famous Sagano Bamboo groves (I will talk about these more next week). While exploring the bamboo groves I found a very small shrine called Nonomiya-jinja. While there I met a really nice guy. He spoke English really well and told me he visited the shrine every morning on his way to work. We talked for about 10 minutes about various things. It was nice to have an interesting conversation to start out the day.
I walked across the famous Togetsukyō Bridge which goes over the Hozu River and Katsura River (I will talk about this more later). While on my walk I noticed a group of cats sun bathing on a metal roof near the river. I walked a little closer to take their photo. Inside the building was a man who watched me taking pictures and came out to see what was going on. I thought maybe he would chase me away but once he saw what I was taking photo's he smiled and laughed a little. He also stood and admired the scene.
It was at last time for Iwatayama Monkey Park to open. Arashiyama is very small and walkable so I walked on over to the admission area. I am pretty sure I was the first customer of the day.
You pay the admission at the bottom of the hill and then walk along a path through a beautiful wooded area. I never saw a single person while walking early that morning. It was so peaceful. I could hear some birds and insects in the distance. The path was not steep but is was long. I walked about 20 minutes wondering where are the Monkeys? Will I see any? I looked in the trees, on the ground ahead of me behind me and nothing. I noticed a Coca Cola bench and thought maybe I would sit for a little but that plan was called off when I saw a Monkey sitting alone just ahead. I slowly walked closer not wanting to scare it. I took a photo and walked a few steps, then took another photo and walked a few steps. The monkey did not seem to notice nor care about my approach. Soon I was just a few feet away. It was a magnificent experience to be so close to this wild animal. After visiting a while I felt energized and continued up the mountain.
It was not very long before I met 2 more monkeys on the path. They were busy grooming each other. They also did not notice me. I was a bit afraid to pass them as there was very little room to get around them on the trail but at the last moment as I got very close they slowly got up and walked up the hill.
Around the next turn is where thing really picked. I had reached the feeding paddock. Before me was dozens of Monkeys sitting, playing, climbing, and sleeping. I took a ton of photo's before heading into the building to buy some snacks for both myself and to feed them. To be honest when I saw the feeding place I was surprised. Photo's had not done it justice You can get a great view from the feeding area and the shop workers were so nice. It was a perfect place to get a little rest after a long walk.
After a drink of water I got some peanuts to hand to them through the window. I was suddenly popular. Monkeys appeared from all over looking for a handout. There were several tiny babies that already were amazing climbers. Once the peanuts were gone I headed out and walked down the other side of the mountain taking pictures of dozens more Monkey's.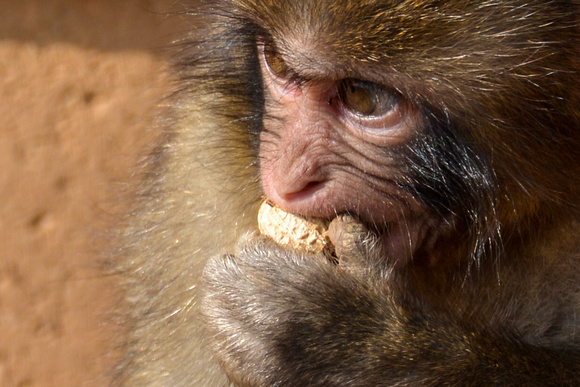 This really turned out to be a great adventure. I saw more people finally start to arrive as I headed down the mountain and it was time to explore more of what Arashiyama had to offer.
To see more pictures of the Monkey Park and Arashiyama visit my Arashiyama Sets
Best of: http://kfrates.zenfolio.com/p820638816
Complete Collection: http://kfrates.zenfolio.com/p778406181