My plan for Ueno was to visit the Zoo and meet the Pandas after that I planned to walk around the Ameyoko (アメ横) shopping district for a while get some lunch maybe. Well I got off to a good start. Ueno was a very short train ride from the hotel and the atmosphere near the station was lively even early in the morning.
I made my way to Ueno park which was across the street from the station. I quickly noticed panda signs, logo's toys etc. all over the place. No doubt I was in the right place.
Ueno has an interesting mix of locals and foreigners. It is a bit more gritty than most of the other districts I had been in. I wanted to arrive at the zoo before all the crowds arrived so I made my way in that direction. Along the way I saw a little lake with a temple over to my left and decided to check it out.
The temple turned out to be Bentendo temple. It's shape was very unique and it was surrounded by a lake. I walked around the area. There was some interesting wildlife around the lake. I had planned on photographing animals at the zoo anyway so I went to it and enjoyed the lake.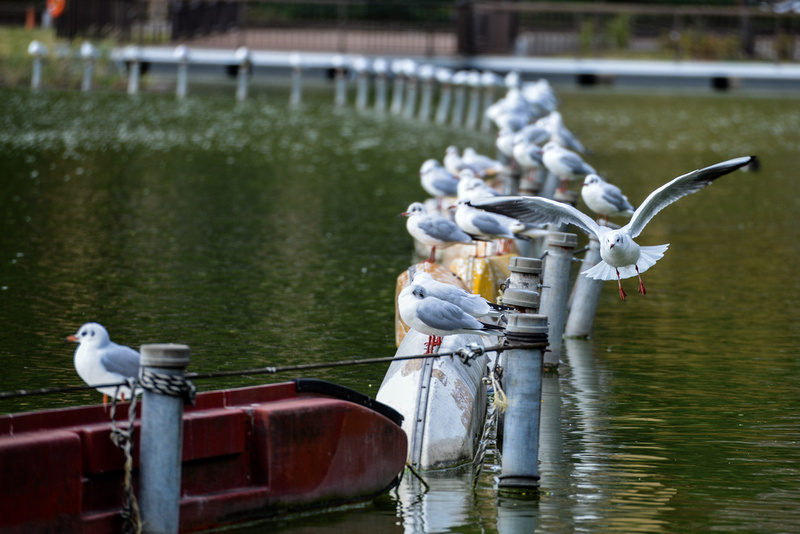 After shooting some of the local birds I could not resist taking some pictures of the swan shaped boats.
The boat rental place was closed but I spotted a cat sunning itself on the docks. As I leaned in to take a photo a man spoke to me. I thought maybe he wanted to say the docks were closed but he picked up the cat and brought it over to introduce me to it. It was really a good start to the day. I had not spoken to anyone yet that day so it was good to enjoy some chatting on the dock.
After that it was back towards the zoo...