Tokyo "Jidai Matsuri" is a historical parade that takes place in Asakusa. Compared to a lot of the events in Japan it does not have a long history. Apparently they have only been holding this particular event since 1999. Since it is relatively new compared to numerous events hosted for hundreds of years around Japan it explains why there was not a lot of information on it (in English) on the internet.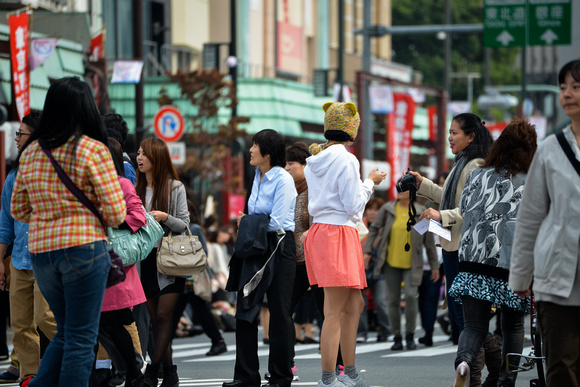 I walked around looking for a good place to enjoy the parade. The streets were quickly filling up and at last I decided to sit across from Senso-ji. One of the nice extra touches they did was they had massive roles of white plastic and unrolled them on the streets so people could sit on the street without getting dirty. It was such a great idea.
The parade moved really well. There were not a lot of long pauses in the action as you experience at some parades things kept a pretty even flow for the most part.
The dragon was so amazing. Behind me a mother and her son were watching the parade. The son was a little upset by the dragon as it moved down the street. The dragon would occasionally stop and bow down to a person and gently touch them on the head to bring them good luck. The dragon came right in front of me and the child started crying. The dragon then gently touched the kids head and he bawled for about 10 minutes. I felt bad for him. He must have been so scared but his mom just kind of ignored him and he eventually calmed down.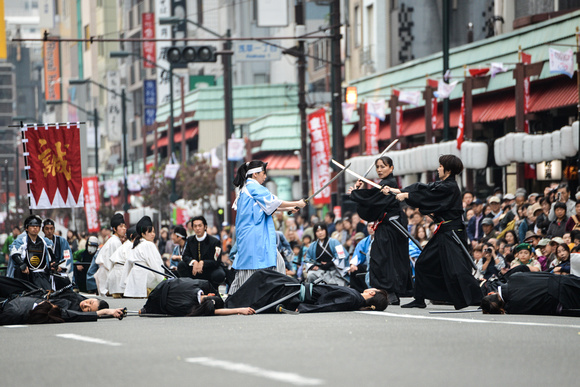 The parade had costumes from various periods in Japans history. All of the costumes were so amazing. I also greatly enjoyed the numerous performances too. There were a couple of sword fights that were thrilling to whatch. The group that dressed as Shinsengumi was very memorable.
The man who climbed the huge ladder performed really amazing acrobatic moves that made me a bit nervous just seeing how high above the crowed he was without any sort of safety net to protect him should he fall. I would have to say that the Tokyo Jidai Matsuri was the liveliest parade that I have personally attended.
To see a ton more photos of the Tokyo Jidai Matsuri held in Asakusa please check my set by clicking on this link. http://kfrates.zenfolio.com/p190759399
Next up the land of the geek/otaku/nerd Akihabara