Kodai-ji is a very short distance from Chion-in and Maruyama Park and boasts a very interesting history. It was established in 1606 in memory of Hideyoshi Toyotomi one of the great unifiers of Japan. Nene Hideyoshi's first wife is also enshrined at Kodai-ji and also was a prominent figure in Japans History. Hideyoshi had the same nickname as me "Saru" which means "Monkey". I have long been interested in the feudal period of Japan's history.
When I arrived the weather was starting to turn. It went from cloudy to light rain to a heavy downpour in a very short period of time. I had my umbrella for the light rain but for the heavy downpour I decided to take at a little cafe set-up near the parking lot at the edge of the temple grounds. I bought a green tea soft serve ice-cream to enjoy while I waited. The rain sounded so great on the tarped roof of the small cafe. A few other people took shelter there as well.
Once the rains calmed to a slow pace I started my walk around Kodai-ji. They had a series of docents pointing the way which was really a first for me. I had never seen so many docents at a temple before. There was a very clear sort of path to follow that took you though the various temple buildings and through the gardens.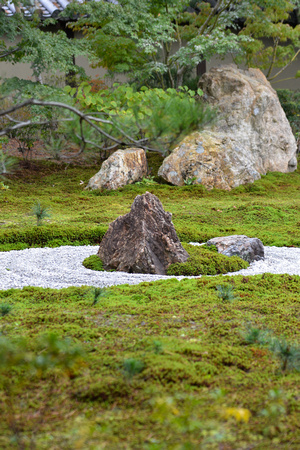 The main hall is a reconstruction due to fires apparently but is still very beautiful and feels historic. It leads you out into a beautiful zen rock garden and then around to another larger garden. Within this garden stands the Kaizando (memorial hall) where Nene would pray for Hideyoshi and which now enshrines wooden images of both of them seen below.
After passing the impressive garden and going up a slight hill there are a couple of small tea houses. I wanted to visit them but it suddenly started to pour rain again so I decided to pick up my pace as I walked down the hill through a lovely bamboo grove. While I was there I saw some workers working hard in the rain to prune some of the trees. They seemed very cheerful despite the rain and greeted me as I passed.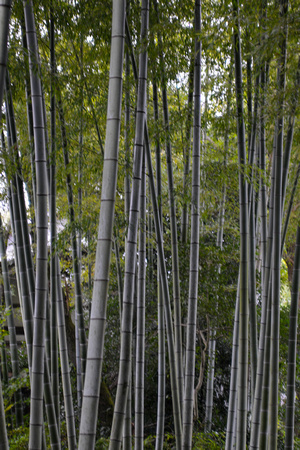 For more images of Kodai-ji please visit my Kodai-ji set: http://kfrates.zenfolio.com/p885508124