I was not at all prepared for how beautiful the Garden at Tenryuji temple was going to be. I have been to a lot of temples and shrines at this point but the zen garden here was extra special I felt. From the moment I gazed though the open panels of the temple until the time I headed back to my hotel I was in awe.
Tenryuji "Heavenly Dragon Temple" is the most important and well known temple in the Arashiyama area. It is famous for it's Autumn scenary and is also a UNESCO World Heritage site as well. Sadly I arrived before the leaved really changed but I was still able to enjoy at least some Autumn color.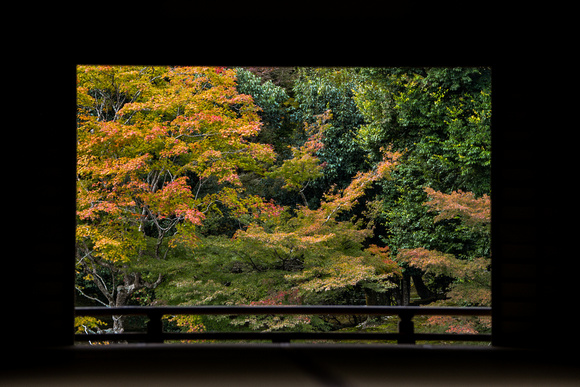 The Zen garden dates back to the 14th century. The garden is called Sogenchi-teien. And in the center of the garden is the very beautiful Sogen pond. The scenery incorporates two Mountains as part of the landscape viewing (Kame-yama & Arashi-yama). The art of adding outside elements as part of the composition of the garden is called shakkei. At least that is how I understood it.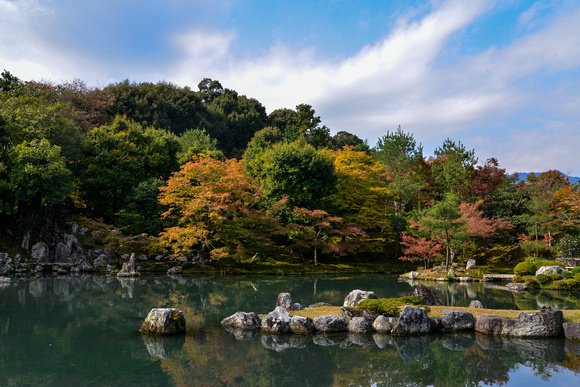 There were lots of couples enjoying the garden scenary together and quite a few dressed in traditional clothes. It's interesting there were very few children. It was mostly couples visiting the gardens.
I felt really peaceful and relaxed. The layout and beauty of the garden removed the weary feeling I had from a full day of walking around Arashiyama.
To see more pictures of Arashiyama please visit my album: http://kfrates.zenfolio.com/p778406181
To see more of just Tenryuji you can visit this special set: http://kfrates.zenfolio.com/p397524731