I love events and when I saw that the Dream Yosakoi was being held in Odaiba I was extremely excited. Odaiba was on my must see list anyway but now I had a huge bonus reason for going to the man made island located in Tokyo Bay.
After my visit to Sengakuji I hoped on the Asakusa line and then transferred to the Yurikamome at Shimbashi Station. It was crowded but a relatively short trip to Odaiba from the Shimbashi station. I was surprised how big the island was. This is the one time I felt the maps undersold the scope of the island.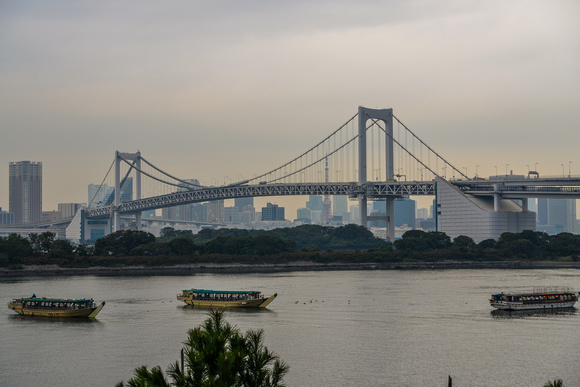 It was lunchtime and I was ready to grab a bite and had plenty of time before the event was scheduled to start. There were several options near Daiba station and many other choices in Aqua City and Venus Fort two of the very large shopping malls nearby. After lunch it was time to visit the life size Gundam statue in front of Diver City. As a geek I could not pass this up. The status was really impressive and as I expected there were tons of people admiring it. After a few shots I decided to explore the area a little more.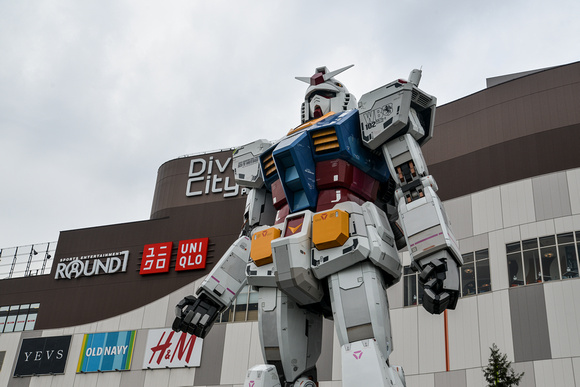 Odaiba is the only place in Tokyo that has beach access. I walked along the beach trails on that overcast Saturday. There were very few people along the waters edge. I saw some kids skipping stones and a couple digging for clams but apart from that is was largely devoid of people unlike the area near the Gundam statue. I can imagine though that in Summer this must be a really popular place.
You can enjoy some really beautiful views of Tokyo from Odaiba including the Bay, the famous Rainbow Bridge, Tokyo Tower and much more. Sadly as they day was getting later it was getting even more grey and started to sprinkle off and on. Luckily I have learned my lesson over the years visiting Japan and had a small umbrella just in case.
It was time for Yosakoi at last or so I thought. There was a large stage area set-up and a panel of about 15 or so speakers. Each took turns speaking but as my Japanese is probably less than your average preschooler I only understood that in general they were very excited about going to New York Times Square to perform Yosakoi and were very excited about the announcement that Japan will host the Olympics in the future. By the time the Dancers were ready to start dancing it was nearly dark and starting to rain. Most people soon scattered. I stayed for as long as I could but even with my umbrella was getting wet.
I really admired the dancers. Even getting soaked in the rain wearing their beautiful and colorful costumes they really danced their hearts out. The music was so energetic I wished I could get a sample of it.
To escape the rain I circled back to Aqua city and decided to get dinner and dry off a little. There were so many shops mostly all high end clothing and it was really crowded but I enjoyed the lively atmosphere. Next I decided to check out the Fuji TV building. It is a very uniquely designed building and has a cool looking observation deck but with the clouds and rain it was bad timing so I just hit the gift shop and moved on to the statue of Liberty... yes, the statue of liberty only smaller but still awesome.
It was getting late and it was time to head back to my temporary home in Asakusa. I could easily have gone back by train but I decided to take a water taxi so I headed to the pier. I made a great choice. I booked a trip on the "HOTLUNA" water taxi. It was beautiful and colorful inside and the windows offered beautiful views as we traversed the bay and down the Sumida River. Tokyo has so many colorful and unique bridges and the city lights were beautiful as we headed back. The boat ride was very smooth and I was able to order up a delicious hot chocolate on board.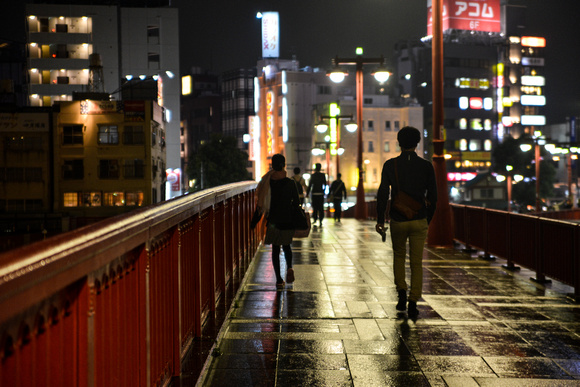 The boat docked near the heart of Asakusa and re-energized I walked around Aakusa a little in the rain before turning in. This ended my first full day in back in Tokyo.
To see more of Odaiba or to buy some prints please click here http://kfrates.zenfolio.com/p390360504
or
to see more of the dream yosakoi or to purchase photos of the event click here http://kfrates.zenfolio.com/p998950762