Hamarikyu Gardens (浜離宮恩賜庭園) looked much smaller on the map than what it was up close and personal. It is a brief walk from the Shiodome station maybe about 5-10 minutes. After paying a small entry fee I busted out my trusty D-600 and took my first left turn.
There were some people but it was far from crowded. I remember a family with a young mother and son enjoying finding an insect in the grass. The boy seemed so excited by it and the Mom... well she seemed happy he was happy I am not sure she enjoyed the insect so much herself.
The park is located at the mouth of the Sumida River at Tokyo Bay. The garden features several seawater ponds various paths, and a teahouse built out on a little island. The tradition Japanese garden standing among the skyscrapers of the Shiodome district poses a really interesting contrasting image. You can also catch a view of the Rainbow bridge while walking along the river bank.
While walking around I met a cat at the top of a little hill. As soon as I sat on a bench it came to me. After petting it I decided it was time to head over to Kyu Shiba Rikyu Garden which was a short walk away and on the way to my Hotel.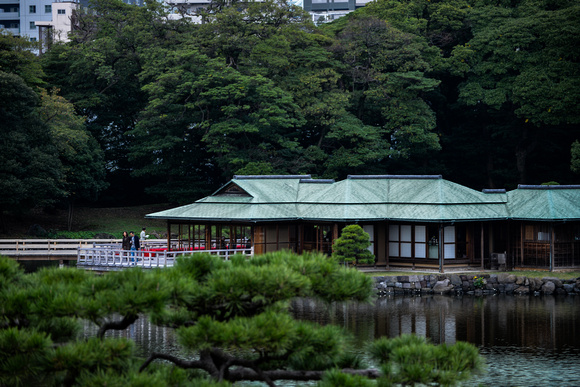 As I walked away from my little friend though I young couple walked the path and was the next to be greeted by this friendly park ambassador. They seemed a very cute couple and the cat soaked up their attention.