...Continued from my previous entry.
I arrived shortly after opening so there were very few other people wandering around on a windy and overcast morning. The arrival was by design as I could not wait any longer to see them and I wanted to beat the crowed. The weather was cold and unfortunate but not unexpected in early Spring on the side of a mountain.
After passing the entrance there is a large balcony and some cages with some foxes in them. I had read there were some in cages that were breeding or had some behavior issues but these were there as a temporary place where they waited for holding sessions. They give you a plastic poncho and you can hold one of these foxes on your lap and pet them (while under supervision by staff of course).
Slightly past the deck they had other animals, goats, rabbits and even crows. I visited them briefly hoping to find the main fox area which was behind me.
After opening the gates to the fox area I was very impressed by the number and variety of foxes present in this really large fenced in area. Most were sleeping on shelves or on the ground while a few were walking around.
As I explored they started to awaken and become more active. After about an hour of taking pictures and admiring my fury friends I decided to go inside and buy them some carrots. The gift shop held tons of treasures which I decided I would explore more fully on my way out. After buying 3 little bags of carrots I headed back out to the feeding area which is in the center and in an elevated building.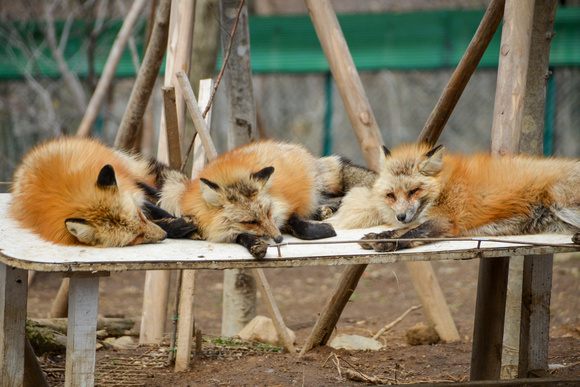 I tossed carrots down to the foxes who swarmed from nearby. Others spotted me feeding them and also decided to buy carrots and join in the fun. The foxes became very lively. A few showed their Alpha nature so I decided to distract them with some food and quickly fed the foxes that were less aggressive. The white foxes seem to be the least aggressive in general.
It is good to pay attention to what they are doing. Foxes are very curious by nature and have been known to steal from visitors things like lens caps, bags, wallets, cell phones... I had my back turned to one and was taking picture then I felt something on my shoe. A fox had come around from behind me and was licking my shoe and then decided to take a little nibble. Lucky for me it was just a curious little soft bite so I asked it not to make a chew toy out of my foot and stepped away. It gave me a curious look and followed along my side as I walked around for a while but was not aggressive in anyway after that.
As the morning turned to afternoon I decided to leave and go visit Shiroishi Castle. Bidding my Foxey friend goodbye. I washed my shoes for good measure, bought some fox souvenirs and requested a cab from the young lady at the desk and bought some coffee while I waited. The cab arrived soon and took me to my next destination.
People will have various opinions about Zao Fox Village as most view the village as a zoo and have mixed feelings about zoos and captive animals. I felt the people working at Zao Fox Village really loves the foxes under their care and treat them extremely well. They all looked well fed and were protected from farmers/hunters and loss of habitat out in nature. Here at the village their injuries are treated if needed unlike in nature and they had reliable food. In nature many consider them a nuisance. I think if you hate the concept of a zoo then this is probably not a place that you should visit but if you are okay with animals living in semi captivity then you will likely love the Fox Village.
I personally went with very high expectations and I left very happy. I will probably not visit again but only because of the cost and distance involved in visiting. I will always remember my time spent at Zao Fox Village fondly and highly recommend a visit by anyone who really loves foxes.