Kamakura has been on my list of places I most wanted to visit in Japan for a while now so I was very excited to go. Kamakura is famous for having many old well preserved temples and shrines much like Kyoto and being a history enthusiast this really peeked my interest in going there.
I got off to a early start as usual. I was impressed with how easy it is to use the train system in Japan. If you look at the maps of the all the different colored lines and read about the transfers is looks very intemidating but really once you do it a couple of times it is a peace of cake. It took roughly an hour to get from my hotel to the kita-Kamakura station.
Sadly the day started off with rain, wind and cold. Luckily my first destination was extremely close to the kita-kamakura station about a 2 minute walk lead me to Engakuji one of Kamakura's 5 great zen temples. It is said to be ranked #2 among them. I am not sure who ranked them and how they are ranked though.
I was a bit early and the gate had not opened yet so I visited with the temple cat that came to greet me and the couple other visitors waiting out front under cover of umbrellas. Once the gates opened I quickly paid my fee and started exploring. The structures were all very impressive. The Sanmon (main gate) was huge and gave me a change to get a little shelter while the rain picked up. in The main hall they had really amazing golden statues and an incredible painting of a dragon located on the ceiling. I had seen it before but it was even more impressive in person.
Not many people were walking around at such an early hour on a rainy day. The sound of the rain and chirps of a few birds was the only noise I heard for the hour I spent walking around the massive temple complex. It really was a very peaceful experience. I headed further into the complex and up a hill. The area was full of trees and plants but also giant spiders so if spiders make you nervous don't look up here because they were all over the place up in the trees. I found some really cool wooden carvings that helped take my mind off the creepy spiders for a moment or two.
On my way out I saw the sign to visit a national treasure located at Engakuji which is "ogane" the temple's large bell. It was a steep hike up a set of stairs that were pretty slippery in the rain but once up at the top I was treated to a beautiful view and found a plce to dry off a little and have some tea. The bell was very impressive. I can't imagine the back breaking labor of getting it up that steep hill.
My next stop was also close by as well. It was Tokeiji, a much smaller temple complex than Engakuji. The temple had an interesting history apparently it served as a shelter for women who suffered abuse by their husbands and wanted to get a divorce. If they stayed at the temple 3 years a divorce would become official. This is just on the other side of the Kita-Kamakura station but I turned right instead of left at first and had to double back but it gave me a chance to see the cool little area past the station full of funky coffee shops and stores plus some houses as well.
Tokeiji had a very large cemetery and beautiful green garden. There were a few people but not many. I felt the rain really was keeping most people away. I was soaked from head to foot at this point even with my umbrella due to the increasing wind. This kept me from spending too much time there.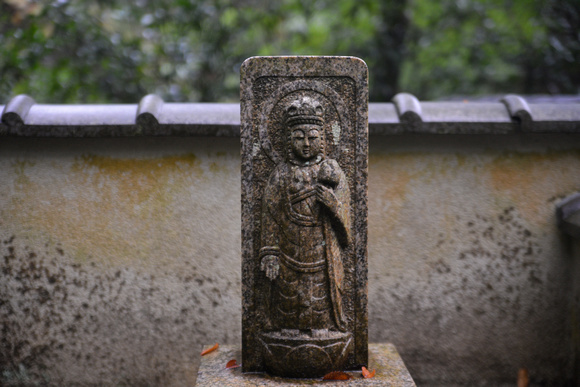 Next up was Jochiji. I was really becoming miserable due to being soaked and cold at this point so I cut this short as well whic was a shame because it was also a lovely place and number 4 on that list of 5 great temples in Kamakura. I will talk about this more next week though
To see or purchase me photos of Kamakura please visit my set http://kfrates.zenfolio.com/p940708034